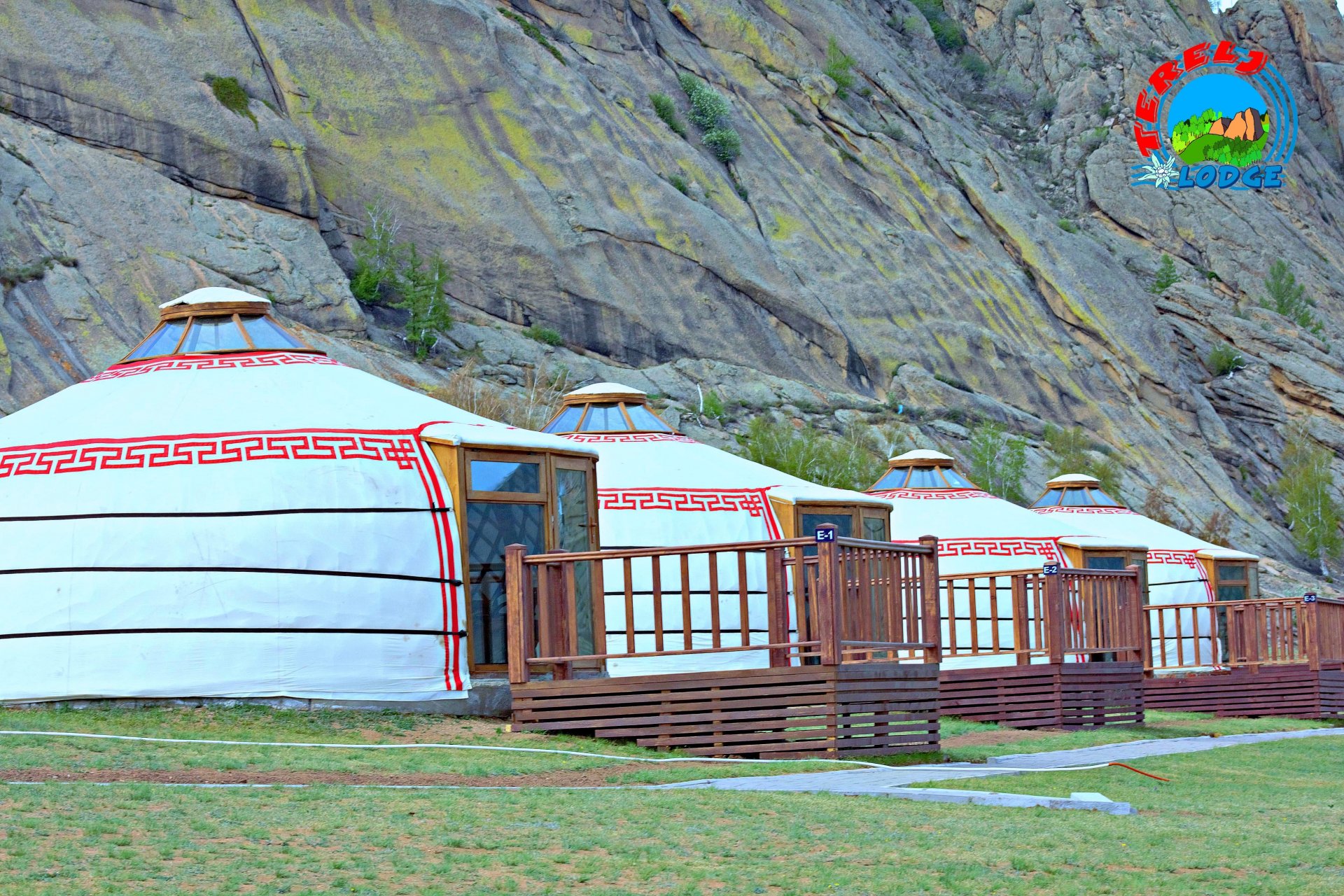 Terelj Lodge
Terelj Lodge is situated in a prime sight of Gorkhi Terelj National Park offers a stunning view of the picturesque valley and convenient access to attractions within the national park. All facilities and services of Terelj Lodge are designed to meet your needs to indulge in the comfort of a luxurious resort and at the same time experience unique lifestyles of Mongolian nomads.

Accommodation:
Deluxe ger: 16 /32 beds/
Tsomtsog ger: 28 /112 beds/
Wooden house: 10 /20 beds/
Dinning:
Buffet breakfast
Heritage restaurant /European, Asian & Mongolian cuisines
Mongolian buffet ger restaurant /Mongolian cuisines-Khorkhog & Barbecue/
Ger lounge /Tea, Coffee & Cocktails/

Activities & Entertainment:
Ger museum
Sports field /basketball, sand volleyball, football, archery/
Children's playground
Open-air garden
Cultural activities /horse riding, archery lesson, visiting nomadic family, mini naadam, folklore performance/
Location: Terelj National park
///initiation.indulgent.fairway
Gobi Mirage camp
The "Gobi Mirage" tourist camp was established in 2005 by a local couple who for over 10 years had been taking travellers to hidden corners of their mysterious homeland – the Gobi. It has an ideal location that allows easy access to the main attractions of the Gobi and to the local airport, all within an hour's driving. First-hand knowledge of travellers' needs and preferences enabled us to turn our camp into an oasis of hospitality and comfort.
Located in the very middle of all major attractions of the Gobi including the Dalanzadgad airport.
Located away from other ger camps clustered together.
24-hour electricity supply.
Drinking water supply, from underground water well.
A mix of European and Mongolian cuisine by a professional chef.
Direct income to local people:
Sales of local handicrafts and souvenirs.
Rental of camels and horses.
Purchase of local food and diary for the camp needs.
Employment opportunities for local citizens.
Stay in a deluxe Gers with en suite bathroom.
Deluxe gers are situated at the front of the camp and have the best view.
Gers / yurts are furnished with softest beds in the Gobi.
Location: South Gobi: 50km from Dalanzadgad
////ligaments.terraces.bullhorn